The Power movie review not that powerful movie review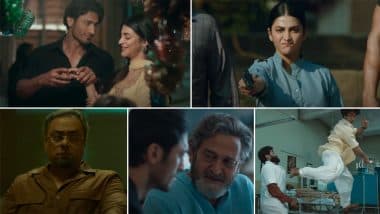 The Power movie is directed by Mahesh Manjrekar and is available on Zeeplex casts Vidyut Jammwal, Shruti Haasan, Mahesh Manjrekar, Jisshu Sengupta, Sachin Khedekar, Prateik Babbar. The movie is given 2.5 stars out of 5.
Story
The Mumbai underworld, Kalidas Thakur aka Dada (Mahesh Manjrekar) runs an organized crime business with the help of Anwar (Zakir Hussain), elder son Ramdas (Jishhu Sengupta), and Ramdas' brother-in-law (Prateik Babbar). After some time, Kalidas' youngest son Devi Das Thakur (Vidyut Jammwal) returns from Singapore and is all set to get married to his childhood love and Anwar's daughter Pari (Shruti Haasan).
However, their marriage plans get canceled when a death attempt is made on Kalidas and doubt is on Anwar. But in a twist, Anwar dies, and Pari swears revenge on the Thakur family. On the other hand, Devi Das bound by ties of blood and heritage is forced to take over the mantle from his father and gets involved in the inevitable cycle of violence, vendetta, and power.
Direction
Mahesh Manjrekar's gangster film sounds good on paper but unfortunately, when it is played on screen, the film misses the target because of the tedious screenplay. Anyone can guess the 'twists' beforehand and blame it on the lack of novel writing. The hype created was high but the script was not too good.
Manjrekar tries to make an action film with elements of drama but struggles to reach out to the audience. Also, some of the dialogues in the film are tacky. The movie has some graphically violent scenes.
Performances
Vidyut Jammwal is seen to be really aggressive as he does stunts and action sequences. Shruti Haasan as Pari also does not perform very well. Her romance with Vidyut Jammwal's Devi Das lacks a spark. In The Power, Mahesh Manjrekar, the actor excels better than Mahesh Manjrekar, the director.
Jishhu Sengupta as the short-tempered, playing Ramdas, merely plays an exaggerated version of his casual self.
Yuvika Chaudhary plays the role of a scheming sister-in-law who is armed with 'taunts' and 'devious plotting'. Sonal Chauhan ends in the film only to lend a shoulder to the heartbroken Devi Das.
Technical Aspects
Rakesh Rawat's camera work captures the bloodshed on the screen really well. The fights, gunfights, kicks, and punches kill the fun, but at the time, the slow-motion shots kill fun too. Sarvesh Parab's editing could have been a little effort to make the narrative gripping.
Music
Arijit Singh's romantic song 'Oh Saaiyaan' fails to tug heartstrings.