Strict rules for gambling to be imposed in Uttar Pradesh
The Uttar Pradesh government has started the process to enact a new law as the Centre plans to scrap the Public Gambling Act and has also allowed states to come up with their own legislation to control gambling.
"The State Law Commission is preparing a draft for the proposed law to check the gambling. All aspects are being studied and looked into to make the law stringent. It will also have special provisions to check online gambling," said justice AN Mittal, the commission's chairman.
The proposed law will have special provisions to check the online gambling threat that is the most when done online, officials said.
There are many applications for online gambling but there are no laws to check the gambling.
There is one-year imprisonment and ₹1,000 fine according to the Public Gambling Act.
The officials also said that these punishments are not enough to check online gambling.
The laws made for checking online gambling of other countries are also being checked by the commission.
The new law is likely to make online gambling a non-bailable offence and provide for a seven-year jail term for it.
The Uttar Pradesh Unauthorised Lottery (Prevention) Act of 1995 makes it illegal for any private individual or business to run lotteries.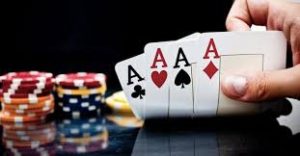 A PIL or public interest litigation was filed in the Supreme Court by a resident of Uttar Pradesh in 2009 who claimed that the issue was serious and needed further scrutiny.
The plaintiff, Mr. Satyavir Singh alleged that lotteries were being conducted indiscriminately and could potentially ruin many families. He claimed that states violated the Central Lotteries Act by conducting such lotteries.
The Bench observed that the petitioner was right and sought a response from the Center on the plea to ban lotteries.
This law that permitted state governments to ban lotteries of other states was challenged by agents in some states.