Puducherry Floor Test: Puducherry deserve statehood, says Late Sushma Swaraj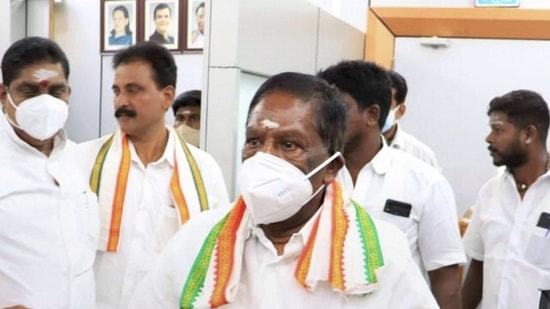 On Monday, Puducherry legislative assembly will take a floor test as the government has lost six MLA`s since January and two on February 2021. The strength of Congress is 9 including the speaker. DMK is at 2. Now the house has fourteen members and CM V Narayanasamy faces challenges as the opposition has fourteen members.
The updates of the floor test are as follows:
On February 22, at 09:20 am, CM V Narayanasamy of the Congress will face a floor test in Puducherry legislative assembly on Monday. To prove the majority on the floor, he has time till 5 pm. The ruling coalition`s strength is down to 12. There are 9 MLA`s in Congress and DMK has two.
At 09:51 am, V Ramachandran, who is an independent MLA said, "I am supporting the existing government. I don't want to change my opinion. I think the existing minister will not have majority support in the assembly".
At 10:13 am, Telangana governor Tamilisai Soundrarajan ordered floor test for February 22.
At 10:21 am, CM V Narayanasamy speaks in legislative assembly ahead of floor test.
At 10:24 am, He said that PM Modi is giving 6000 for small farmers whereas they are giving 37,500.
At 10:29 am, CM V Narayanasamy said, "PM Modi and former L-G Kiran Bedi 'stifled' us, yet we were able to work for the welfare of the people. Those elected by people must govern".
At 10:34 am, CM V Narayanasamy said that when late former Union Minister Sushma Swaraj visited Puducherry, she said Puducherry deserved statehood.
At 11:00 am, he said, "In Tamil Nadu and Puducherry, we follow the two-language system (Tamil and English) but BJP is trying forcibly to implement Hindi".
At 11:03 am, In April, the legislative assembly elections are likely to take place in Puducherry in April/May.
At 11:07 am, V Narayanasamy asked, "Centre during election said if we come to power, we will bring back black money and give 15 lakh in bank accounts. Where is the black money?"
At 11:25 am, Congress lost majority on the floor, informed Puducherry legislative assembly speaker VP Sivakolundhu.
At 11:28 am, Government has failed to prove its majority in the house as Narayanasamy and Congress walk out.