Overwhelming response to Army recruitment rally in Jammu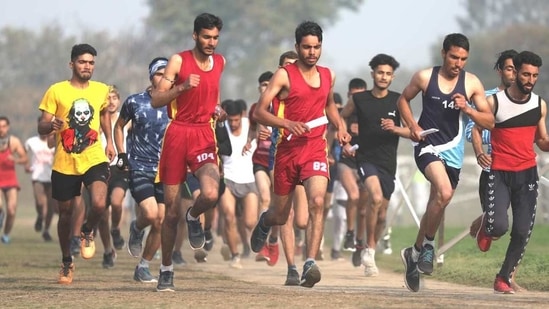 An overwhelming response has been received by a recruitment rally of the Indian Army at Sunjuwan military station in Jammu.
Defense spokesman Lt Col Devender Anand said from February 15 to March 6, at Sunjunwan Military Station the rally for various categories of soldiers is in process under aegis of Tiger Division.
For ten districts of Jammu province, the rally is being organised for the youth.
"Army Recruiting Office (ARO) Jammu in close coordination with Shivalik Brigade, Civil Administration of Jammu Division and J&K Police is conducting the ongoing rally in a smooth and transparent manner," he added.
The conduct of recruitment rally was reviewed by Maj Gen Vijay B Nair, General Officer Commanding, Tiger Division on Saturday.
"The GOC was briefed by Brigadier AP Singh, Commander Shivalik Brigade and Director Recruiting, Jammu about various arrangements including various security, anti-touting and Covid-19 related measures", said Colonel Anand.
After the lockdown and Covid-19 restrictions, this is the first Army recruitment rally in the region.
"An overwhelming response from the exuberant youth has been recorded and approximately 40,000 candidates have registered online. The rally is witnessing immense participation from the well-prepared local youth of all ten districts of Jammu Division towards joining Indian Army," he added.
A recruitment rally of the Army for the post of Sepoy Pharma was to be conducted for eligible candidates of Punjab, Jammu and Kashmir and Ladakh from March 1-10 at Sunjwan Military Station in Jammu.
As per a communiqué issued in Jammu, online registration was mandatory for the aspiring candidates and was opened from January 28 to February 26. The admit cards for the rally were to be sent through registered e-mail from February 27 to February 28.
The gates of the venue were to open at 7am and close by 10am on each day and the candidates were to reach the venue on given date and time mentioned in the admit card.