Myanmar junta pressured by Western countries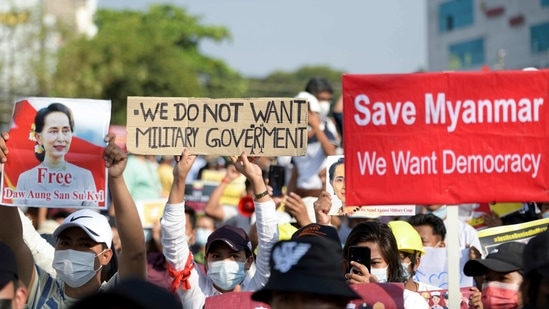 The European Union claimed that it is holding sanctions on Myanmar while United States penalised two more generals for military coup link. The Western countries are pressing the junta to avoid the protests.
A huge crowd gathered and the strike shut business even after waring from authorities. To this, junta leader General Min Aung Hlaing said that energy should be put to improve the economy.
"The generals are losing their power to intimidate and with it, their power. It is past time for them to stand down, as the people of Myanmar stand up," UN Special Rapporteur Tom Andrews said on Twitter.
Smalls crowds again gathered on Tuesday, but did not confront the security forces.
The EU government showed support to release elected leader Aung San Suu Kyi.
"We are not prepared to stand by and watch," German Foreign Minister Heiko Maas said in Brussels.
The European Union is seeking sanctions on businesses owned by the army.
Three protesters have been killed during the protests. Two were shot dead and a woman was shot. Min Aung Hlaing said that the police did not use much force.
The army seized many protesters on Monday. The United States on Monday imposed sanctions on two members of Junta- Lieutenant General Moe Myint Tun and General Maung Maung Kyaw.
"The military must reverse its actions and urgently restore the democratically elected government," the US Treasury Department's Office of Foreign Assets Control said.
Britain, Germany and Japan also criticized the Myanmar coup. UN Secretary-General Antonio Guterres urged the military to stop repression.
Indonesian countries are also showing support to the protesters and has asked junta to hold elections with free and fair monitoring.
Indonesian Foreign Minister Retno Marsudi has been rallying support among Association of South East Asian Nations (ASEAN) members for a special meeting on the crisis.
But the plan would fail as protesters are demanding immediate release of Suu Kyi.
A protester put up a sign outside Indonesia's embassy in Yangon saying: "We don't need another election!! Respect our votes."