'Kabhi Kabhi' dialogue writer Sagar Sarhadi dies at 88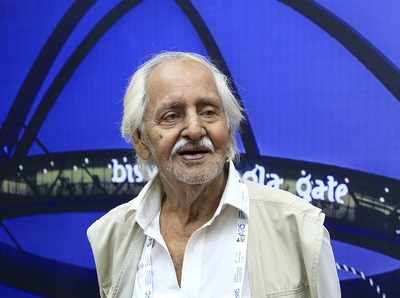 Bollywood writer-director Sagar Sarhadi, 88, has died on Monday due to heart problem. The veteran filmmaker was famous for his directional movies like Bazaar and Lorie and for movies like Kabhi Kabhi, Chandni, and Faasle for which he wrote the dialogues.
The news was confirmed after ANI tweeted, " Mourning the loss, director Hansal Mehta took to Twitter and said, "Rest in peace Sagar Sarhadi saahab."
Sarhadi was an Urdu writer before he entered Bollywood. He wrote many plays and short stories. He changed his name to prove his connection with the frontier province. Sarhadi was named Ganga Sagar Talwar in 1933 in the North-West Frontier Province of India.
After completing his school, he moved to Mumbai. He received his first break with the movie Patni (1970). He then worked with Kapil Kumar and then with Basu Bhattacharya in the movie Anubhav (1971).
He was a veteran Indian People's Theatre Association member who introduced artists like Farooque Shaikh and Shabana Azmi in his inter-collegiate theatre competitions for Khalsa and St Xavier's in the late 60s and early 70s.
In 2019, Sarhadi was admitted to a Mumbai hospital's cardiac care ICU. The hospital administrator of SR Mehta Cardiac Hospital said, "The patient was brought after suffering a heart problem. He is stable and improving and we hope to discharge him soon."
Bollywood actor Jackie Shroff mourned his death and wrote, 'Will Miss You…R.I.P'
Director Hansal Mehta also mourned the death of Sagar Sarhadi and tweeted: "Rest in peace, Sagar Sarhadi sahab."
IFTDA tweeted, "@DirectorsIFTDA mourns the demise of Veteran Filmmaker & Writer #SagarSarhadi. We pray to the Almighty to bless his noble soul & give courage to his bereaved family to bear the irreplaceable loss."
Ashoke Pandit tweeted, "Sad to know about d demise of Sagar Sarhadi ji a well-known writer,director due 2 heart attack. Some of his well-known films as writer #KabhieKabhie #NOORIE #chandni #DoosraAadmi #Silsila. He also wrote &directed #Bazaar. It's a great loss to d film industry."