India`s active cases pass 1.7 Lakh with 14,989 fresh Covid-19 infections
On Wednesday, India registered a little rise in the daily infection with 14,989 new cases in the last 24 hours. The daily infections were 12,286 on Tuesday.
The recoveries reported were 13,123 in the past 24 hours making the total count of recoveries to 10,812044.
On Wednesday, the active caseload of India reached 1,70,126 as the infection tally was higher than the recoveries.
Active cases on Tuesday in India were around 1.68 Lakh.
The Union Health Ministry said that the maximum number of daily cases are contributed by Maharashtra, Kerala, Punjab, Tamil Nadu, Gujarat.
The weekly positivity rate is higher than the national average rate of 2% in six states and UT`S that include Maharashtra, Kerala, Goa, Chandigarh, Punjab and Gujarat as well.
On Tuesday, the ministry said that the highest weekly positive rate of 10.2% is of Maharashtra out of all the other states.
On Tuesday, Maharashtra reported 7,863 new coronavirus infections making the total caseload to 21,69,330.
Kerala on Tuesday reported 2,938 new Covid-19 cases and 16 deaths.
On Tuesday, Punjab reported 730 new Covid-19 cases while Tamil Nadu and Gujarat added 462 and 454 new cases, respectively.
To find the reason behind the spike in the number of daily infections, high-level multi-disciplinary teams have been allotted in several states by the Centre.
In January, the situation of sudden rise in the number of cases was stable. The rise in the number of cases can be due to the ease of restrictions everywhere and people becoming comfortable.
To stable the rising number of cases, some states have imposed local restrictions.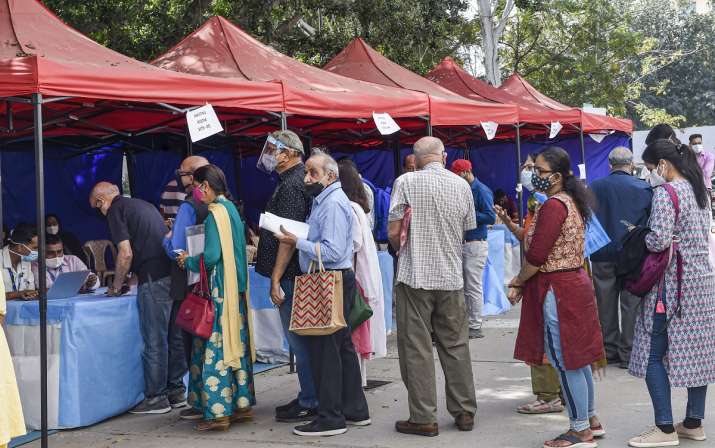 As the second phase of coronavirus vaccine drive is open for those with co-morbidities between the age group of 45 to 59 and senior citizens, it is gaining pace.
In the second phase of vaccination, self-registration is opened from 9 am and it will cover close to 270 million beneficiaries.
Beneficiaries should book an appointment for vaccination after registration. They can also make booking by walk-in appointment after registration.
The registration can be done on upgraded Co-Win website and according to the guidelines of the vaccine, one person can make registration for three more people using their mobile number.