Delhi HC makes mask compulsory even if there is one person in the car
On Wednesday, the Delhi High Court said that a mask is compulsory even if a person is driving alone in a private vehicle. The car will be considered as a public place, Delhi HC said.
The Delhi HC said that mask acts as a 'suraksha kavach' which prevents the spread of Covid-19. The HC also said that wearing masks in Delhi was compulsory for everyone.
Judge Pratibha M Singh said, "Even if you are alone in the car, why object to wearing a mask? It is for your own safety."
"When a car stops at a traffic signal, a driver often has to roll down their window. The coronavirus is so contagious that even in that time, anyone can be infected," the court said.
"This was the least anyone could do to be safe against Covid," she added.
"Scientists and international governments advise wearing of a mask. The challenge of the pandemic was enormous and the wearing of face masks is necessary whether a person is vaccinated or not," the Delhi HC said.
The bench led by Justice Prathiba M Singh said that all the petitions should be dismissed for fines imposed on those people who did not wear masks when they were alone in the car.
While dismissing the petitions, the court also chided the lawyers of the petitions challenging the mandatory mask rule. If the lawyers comply the rules, common people will be encouraged to follow the same, the court observed.
In November 2020, when advocate Saurabh Sharma filed a petition against the challan of ₹500 and sought a compensation of ₹10 lakh, the Delhi government maintained that a personal vehicle is not a private zone.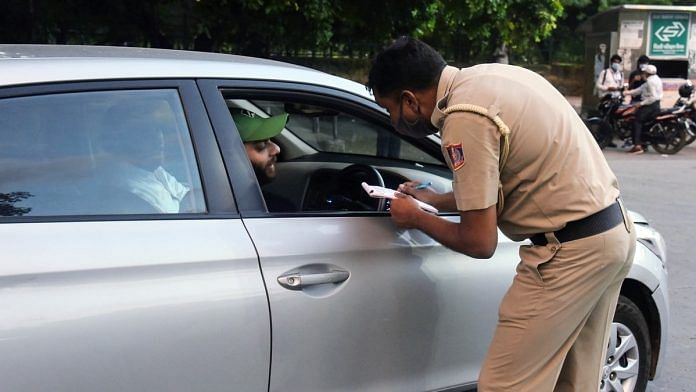 There was no rule that a lone driver has to wear a mask, the Union Heath Ministry claimed. But every state had the right to make its own rules and enforce them, the ministry had stated.
The Aam Aadmi Party had argued that all people travelling in public and private vehicles should wear mask.
A night curfew from 10pm to 5am has been imposed in the city. On Tuesday, Delhi reported 5,100 new infections, the highest in this year so far.