Commerce minister Piyush Goyal launches single window system for investors
Trade Minister Piyush Goyal on Wednesday launched a nationwide one-stop-shop and this will help domestic and global investors obtain regulatory approvals through the website, which currently houses 18 central departments and nine states.
Under the leadership of Prime Minister Narendra Modi Ji, India is rolling out the red carpet for investors! Government Soft is launching the country's single window system, a digital platform for investors to obtain permits and permits, said Goyal. By the end of this calendar year, the portal will add 14 more central departments and five states.
The minister said investors will have one-click access to all solutions thanks to a comprehensive simplification. According to him, this will ensure transparency, accountability and responsiveness of the ecosystem, and all information will be available on one dashboard.
The portal will provide investors with services such as know-your-approval (KYA), General Registration, State Registration, Document Retention and Electronic Communications. "The launch of the country's single window system is a huge step towards India becoming Atmanirbhara [self-sufficiency], said Goyal.
KYA is an intelligent information wizard that generates a list of permissions that every business needs to get started. It does so by asking the investor a series of dynamic questions about his proposed activity and determining the basis for approval from the answers provided. The service was launched on July 21, 2021, and has more than 500 approvals in 32 central offices and more than 2,000 approvals in 14 states.
Goyal said the one-stop-shop system would eliminate the need to turn to government agencies for permits and registration and facilitate business operations. He added that this would strengthen programs such as Make in India, Startup India and the Production-linked Incentive (PLI).
He added that PLI plans have been announced for 13 sectors with a total cost of $ 27 billion to create world production leaders for Atmanirbhar Bharat.
Today the whole world expects India to grow and take its rightful place as an economic centre, he said.
With the rapid recovery, he said, we are once again on track to become one of the fastest-growing major economies, as are other transformation and nation-building initiatives launched in the past seven years. He added that India's Gross Domestic Product (GDP) grew by more than 20% in the first quarter of fiscal 22, exports rose 45.17% in August this year compared to the same period last year.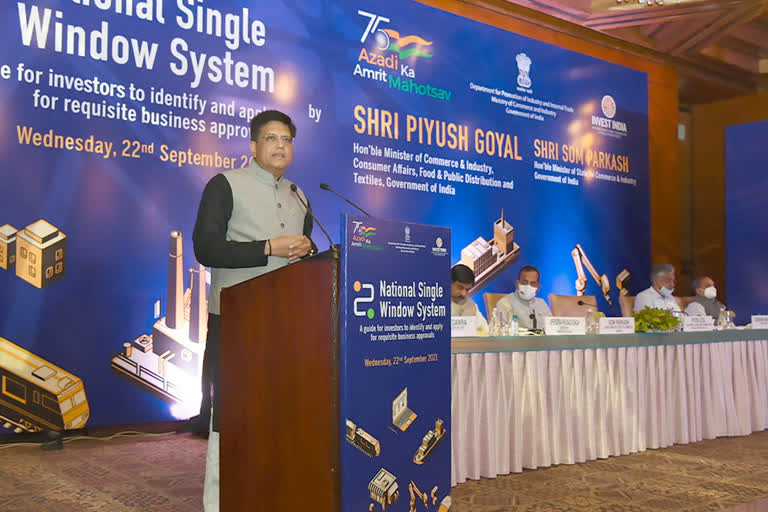 Invest India has developed a common technical architecture for systems that can be expanded between ministries and states. Invest India assessed and selected technology implementation partners and began developing the system.
Founded in 2009 to support foreign investment, Invest India is a 49% state-owned public-private enterprise, 51% of which is equally owned by industry associations – the Federation of Indian Chambers of Commerce and Industry (FICCI), the Confederation of India Industry (CII) and the National Association of Software Development and Service Companies (Nasscom). The state share of 49% belongs to the Department of Commerce and Industry and 19 states. The Industry Secretary is the non-executive chairman of the board of Invest India.